In May of 1966, community members came together to form a small ambulance service.  Beginning with 16 volunteers from a small building lent by the Lehigh Portland Cement Company, the organization moved into its present location in the village of Ormrod in 1979 on a site donated by Mr. and Mrs. Stanley Kokolus.  Northern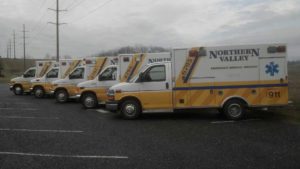 Valley Emergency Medical Services, Inc., or "NOVA" as it is known today, serves more than 45,000 residents and visitors to our community which includes North Whitehall, Washington, Heidelberg and portions of Lowhill Townships and the Boroughs of Slatington and Walnutport.  Our operations continue to be located in our Ormrod building, the "South" station, and we now operate a "North" sub-station in Slatington Borough and a "West" sub-station in Heidelberg Township.
Although, providing emergency ambulance services to the community has changed greatly over the past 50 years our values and focus remain the same – you.   At NOVA, we remain committed to providing quality care to those we serve.