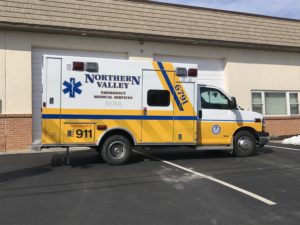 In May of 1966, beginning with 16 volunteers from a small building lent to us by the Lehigh Portland Cement Company, the organization moved into its present location in the village of Ormrod in 1979 on a site donated by Mr. and Mrs. Stanley Kokolus.  Our operations continue to be located in our Ormrod building, the "South" station, and we now operate a "North" sub-station in Slatington Borough and a "West" sub-station in Heidelberg Township.  NOVA still continues to operate with volunteers, we have over 60 active volunteers, and has added more than 50 career professionals to our payroll.
Providing emergency ambulance services to the community has changed greatly over the past 50 years.  In addition to personnel changes, the costs of vehicles and state-mandated equipment have increased exponentially.  The challenges of funding this vital community asset continues to change and expand requiring new business planning and implementation.  Insurance reimbursements, high deductible plans and below cost Medicare/Medicaid reimbursements have put extra financial pressures on EMS organizations.  The future promises even more difficulties and will require effort, focus and community cooperation.
At NOVA, we remain committed to providing quality care to those we serve while continuing to be innovators in the rapidly evolving emergency medical services industry.  Your support in helping us balance rising operational cost with obtaining necessary medical equipment, which will allow us to provide the best care possible for our community, is essential to our mission.  NOVA greatly appreciates any assistance you can provide to help us support our mission.
---
Please send your valuable tax-deductible donation to:
Northern Valley EMS, Inc., 2375 Levans Road, Coplay, PA 18037