Featured Announcements
February 24, 2018
Comedy Night at Northern Valley EMS
Cocktail Hour (BYOB) – 6:00 P.M.
Buffet Dinner – 7:00 P.M.
Show Starts – 8:00 P.M.
For Tickets Call Shawna – 610-799-0460  —  $35 each
December 3, 2017
Please come and join us for some Holiday Shopping Fun! From Jamberry Nails, LuLaRoe to Homespun Crafts; All your favorite shops under one roof! The Holiday Shoppe hours are from 10:00 am to 3:00 pm. The Auxiliary Kitchen will be open. Hope to see you there!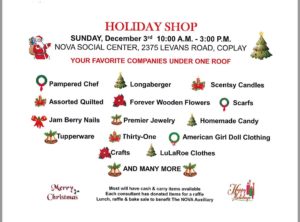 September 28, 2017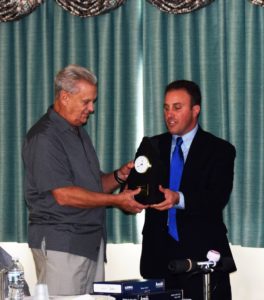 Northern Valley EMS, Inc. (NOVA) held their annual roundtable luncheon on Thursday, September 28th.  NOVA presented objectives of the organization, community outreach activities, legislative concerns, and financial standings to local community officials and representatives during a lunch prepared by the NOVA Auxiliary volunteers.  In addition to the Board of Directors, representatives from Senator Patrick Brown's Office, Representative Gary Day's Office and State Representative Zack Mako were in attendance.  Local officials from the Borough of Slatington, Heidelberg Township and North Whitehall Township also attended.  During the meeting, Jason Breidinger, Board of Director – Public Relations Chair, presented Donald Steffy with an award for over 25 years of dedicated service as a volunteer Board of Director.  Donald retired as a Board of Director at the end of his term, but will continue to stay involved as a citizen volunteer of NOVA.  Marie Dean, NOVA Auxiliary President, also surprised the Board of Directors with a generous donation of $20,000 presented to Kevin A. Schmidt, President.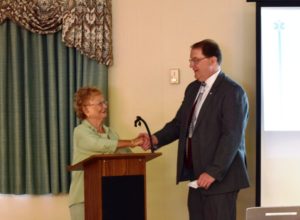 March 2017 Business of the Month
Northern Valley Emergency Medical Services (NOVA)
Recognized by Chamber as Business of the Month
            The Greater Northern Lehigh Chamber of Commerce is proud to recognize Northern Valley Emergency Medical Services (NOVA) as the March 2017 Business of the Month. NOVA is a provider of emergency advance life support and basic life support medical transportation services. They service 45,000 residents in North Whitehall, Washington, Heidelberg and portions of Lowhill Townships and the Boroughs of Slatington and Walnutport.
            In May of 1966, community members came together to form a small ambulance service with 16 volunteers in a small building 13 years later they outgrew the space and moved into its present location in located at 2375 Levans Road in Coplay. In addition, they operate two substations; one on Slatington, the other in Heidelberg Township. Since their first day in May 1966, NOVA's mission has never wavered. They are an organization built on a solid foundation of values and principles that drive their success by shaping goals, guiding conduct and promoting a sense of pride.
At NOVA, integrity is earned through uncompromising dedication, educating to the highest standards and openness within the organization.  They are committed to the safety of those they serve by maintaining the highest skills and abilities to ensure their well-being.  Dedicated to the continuous improvement of patient focused care and services intended to exceed the community's and visitors' expectations, they employ a continual quality improvement program.  NOVA promotes a system where creativity is championed and innovation is encouraged.  Finally, through mutual respect, teamwork and open communication, they foster a partnership with the communities, staff, professional colleagues and patients and their families.
            Board Officers are; Kevin A. Schmidt, President; William V. Moyer, Vice President; Nancy Treskot, Secretary; Lamar Hamm, Treasurer; Kristie D. Wilk, Director of Administration; Anne Boddie, Director of Operations; Lisa Breneiser, Business Office Manager. NOVA auxiliary, in operation since 1974 continues to be, an integral part of the organization, Auxiliary President since 1975 is Marie Dean.
Providing emergency ambulance services to the community has changed greatly over the past 50 years.  Career professionals have largely replaced volunteers, and costs of vehicles and state-mandated equipment have increased exponentially. The challenges of funding this vital community asset continue to change and expand requiring new business planning and implementation.  The future promises even more difficulties and will require effort, focus and community cooperation.
            NOVA remains committed to providing quality care to those we serve while striving to continue being innovators in the rapidly evolving emergency medical services universe.  To learn more about NOVA, to volunteer or donate to the cause, visit 
www.northernvalleyems.com
. You can also find them on facebook @NorthernValleyEMS.